From Redon
In the cover, Lola asks Gotti to marry with her.

The chapter title is "

Tatakau Music" (Fighting Music) the attack that Apoo used with Kizaru in Sabaody.
This time Apoo uses Tatakau Music with Luffy and Zoro. Luffy is KO'd for a few seconds and Zoro gets a huge cut wound in the chest.
Luffy is totally OK at the end of the chapter. Zoro got the cut because he can't see or predict Apoo's attack.

There is a Wolf Smile user, he's like Holdem with a wolf in the abdomen.
Zoro cuts in half a tower with a lot of Beast Pirates.
There are a lot of new Smile users, like a gorilla, a giraffe, or a mantis.
Apoo hits Luffy in the face with a sonic wave, then he cuts Zoro, and finally he sends an explosion to Luffy.
Luffy and Zoro lost Kinemon's costumes.
Kid and Killer see all it's happening. Kid decides he will go for Apoo, Killer tries to stop him.
Kid goes after Apoo, he wants to kill that traitor.


The last panel is Kid hitting Apoo. And Apoo looks scared before the attack..
Translated from Korean
Kidd appears in the chapter.
Luffy and Zoro get together, Apoo discovers them and reports it to Queen.
Luffy stars rampaging.
Kidd says they (we) should be able to relax a little now.
Zoro appears, he originally wanted to calm Luffy down, but after learning the reason behind his anger, he gets mad as well.
Apoo sees Luffy and reports to Queen.
Queen wants to eliminate one member of the Tobi Roppo, so he says he will give that empty chair in Tobi Roppo to the one that catches Luffy and Zoro.
Apoo attacks Luffy, Kidd attacks Apoo
Kid's attack is "Punk Gibson" and that page is the last of the chapter.
ONE PIECE will be on Break next week.
Color Spread in Chapter 981.
Original Spoiler Source: 5ch One Gal (106.101)
————————————————————————————————————————–
Spoiler Images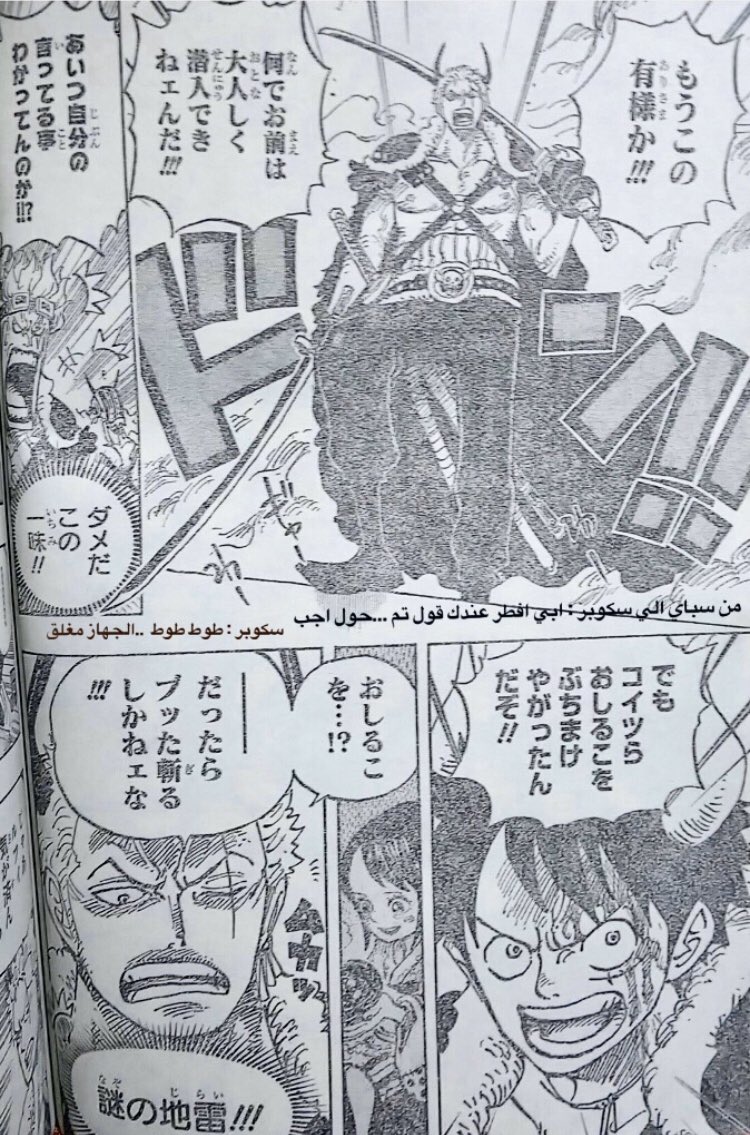 Zoro: Did you put on a show already!?
Why can't you sneak in quietly!?
Kid: Do he understand what he's saying!?
(This crew is hopeless!)
Luffy: But they throw out the Oshiruko!!
Zoro: The Oshiruko…!? Then we have but to cut tthem to pieces!!
Kid(?): A mysterious landmine!?